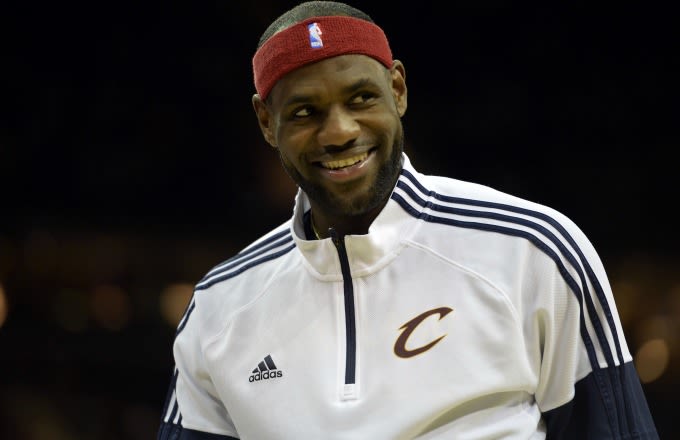 Image via USA TODAY Sports/David Richard
Back in February, we put together a list of the 25 best players in the NBA at the time. And looking at it today, there are at least one or two guys on that list who don't belong anywhere near a collection of the best players in the NBA right now. For example, Roy Hibbert, who landed at No. 25? After what we saw from him in the NBA Playoffs last season, no. Just no. There are also a few players like Anthony Davis, who landed at No. 11 in February, who have clearly improved a lot in the offseason and deserve to be ranked even higher this time around. And of course, there are a couple other players, including Derrick Rose, who were left off the list last season due to injuries. But they deserve to be on it today.
Isn't that one of the things that's so great about the NBA? In a matter of just months, players can shoot up "best player" lists or fall off of them completely due to poor play (or in some cases, injuries, which why you unfortunately won't find Paul George, who was No. 3 on the list in February, on the list now). It leads to endless amounts of debate amongst NBA fans and makes it important for people to stay up on what's going on within the league at all times.
As we prepare to tip off the 2014-15 NBA season later this week, here's our list of The 25 Best Players in the NBA Right Now. Let the arguments begin…
25. Kobe Bryant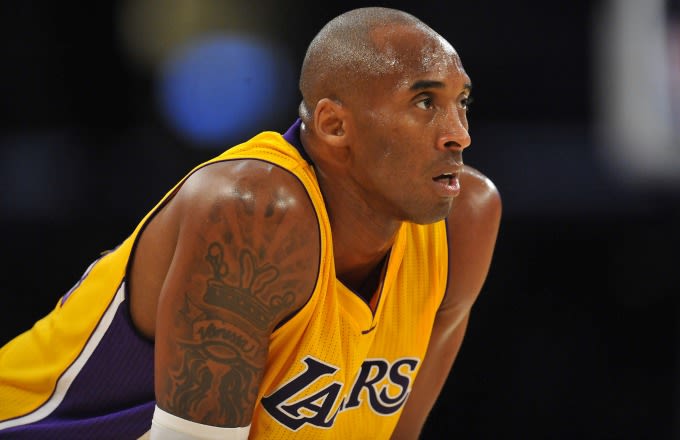 Image via USA TODAY Sports/Gary A. Vasquez
Team: Los Angeles Lakers
2013-14 Stats: 13.8 PPG, 4.3 RPG, 6.3 APG, 1.2 SPG (only played six games due to injury)
At 36, Kobe clearly isn't the player that he used to be at the start of his career. Hell, he's probably not even the player he was two years ago before a series of leg injuries sidelined him and forced everyone to wonder whether or not he'd ever be able to play at a high level again. But if nothing else, Kobe is determined right now. Determined to show NBA fans that he can play for between 30 and 40 minutes every night. Determined to prove that he's still got a little bit of gas left in the tank. And determined to score 593 points to pass Michael Jordan on the NBA's all-time scoring list.
Kobe's not going to lead the Lakers to a championship this season. And he probably won't even lead them to the playoffs. But he will give us a reason to watch the Lakers again, which is something that we avoided at all costs last season. Kobe is back, and the NBA is better for it.
24. Kawhi Leonard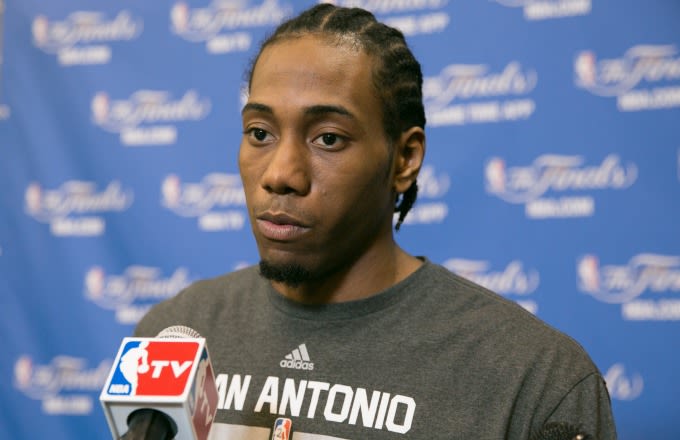 Image via USA TODAY Sports/Soobum Im
Team: San Antonio Spurs
2013-14 Stats: 15.8 PPG, 7.7 RPG, 2.5 APG, 2.1 SPG
When the Spurs swingman first came into the league, he was known primarily for his defense and his ability to rebound the basketball. His offensive skills were an afterthought and there weren't many people who thought he would develop into a reliable scorer for San Antonio. But after a pretty solid showing in the 2013 NBA Finals, Leonard proved his doubters wrong by shooting 61.8 percent from the field during the 2014 NBA Finals and winning the Finals MVP award while leading the Spurs to a 4-1 series win over the Heat.
At just 22, Leonard is only going to get better, too. He'll be relied upon to score more this season and, once he beats the lingering eye infection that has kept him out of most of the preseason this year, we fully expect him to pick up where he left off last season with the Spurs.
23. Dirk Nowitzki

Image via USA TODAY Sports/David Richard
Team: Dallas Mavericks
2013-14 Stats: 21.7 PPG, 6.2 RPG, 2.7 APG, 0.9 SPG
Now that he's 36, Nowitzki is finding that he's unable to do some of the things that he used to do on the court. He has struggled with injuries in recent years and can't play as many minutes as he did a few seasons ago. But that doesn't mean that he can't be an effective player anymore. He has reportedly worked on making his shot release even quicker than it already was, which will make it difficult for opponents to defend him. He is trying to incorporate a sky hook into his arsenal, which would just be unfair to the opposition. And thanks to the offseason addition of Chandler Parsons to the Mavericks roster, Nowitzki won't have to worry about shouldering the load for Dallas anymore. So he should continue to produce for Dallas, even though he's clearly entering the twilight of his career.
22. Chris Bosh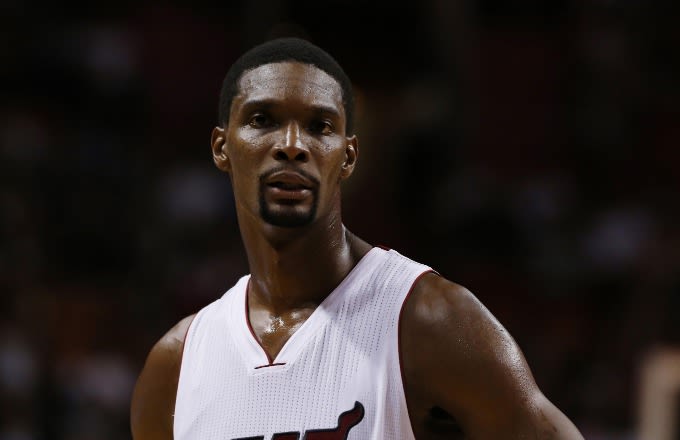 Image via USA TODAY Sports/Robert Mayer
Team: Miami Heat
2013-14 Stats: 16.2 PPG, 6.6 RPG, 1.1 APG, 1.0 BPG
With LeBron James in Cleveland now and Dwyane Wade still struggling to get 100 percent healthy, the Heat are Bosh's team. They gave him a huge max contract this summer and he's going to be expected to put up max contract numbers. We fully expect him to do it, too. If you remember, he averaged a career high 24.0 points and 10.8 rebounds in his final season with the Raptors back in 2009-10. So he's more than capable of filling out the stat sheet, especially if he gets as many touches as he's expected to get. Don't be surprised at all if he ends up much, much higher on this list towards the end of the season.
21. Rajon Rondo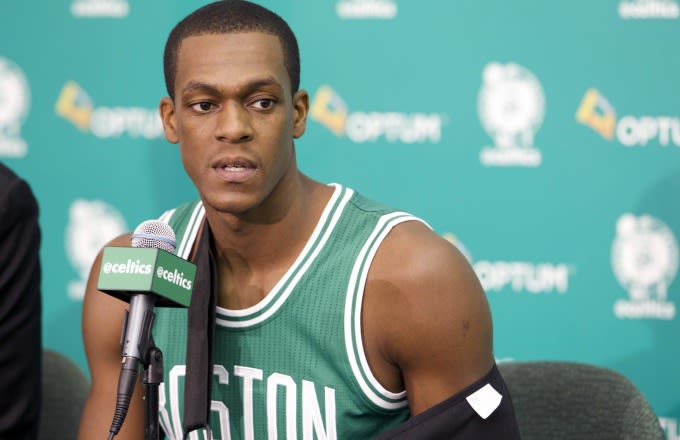 Image via USA TODAY Sports/David Butler II
Team: Boston Celtics
2013-14 Stats: 11.7 PPG, 5.5 RPG, 9.8 APG, 1.3 SPG (only played 30 games due to injury)
Rondo's season is already off to a bit of a rough start. He sustained a wrist injury in the preseason that limited him and it could keep him out for the first few games of the regular season. But he's still going to end up having a solid season for two reasons: One, he's in a contract year, which means that, if he wants to get paid next summer, he's going to have to produce on the court this year and prove that he's still an elite point guard in the league. And two, the Celtics don't have enough talent surrounding Rondo for him to take nights off.
As soon as Rondo takes the court this season, he's going to have to score, distribute the ball, and help teach the Celtics young roster how to win. It's going to be a tall task, but after missing more than half the season last year with an injury, we're betting he's up for it.
20. Marc Gasol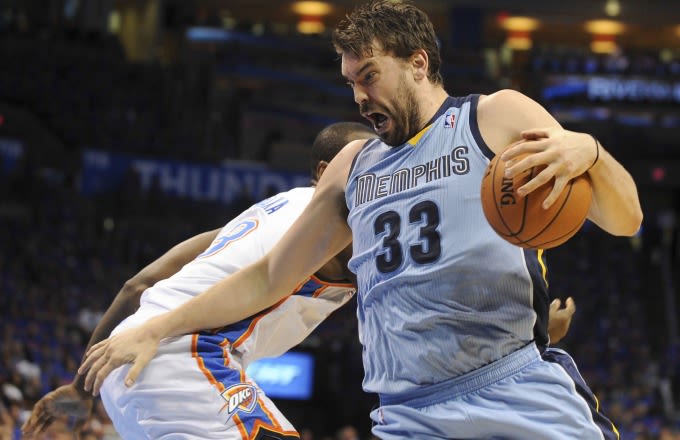 Image via USA TODAY Sports/Mark D. Smith
Team: Memphis Grizzlies
2013-14 Stats: 14.6 PPG, 7.2 RPG, 3.6 APG, 1.3 BPG
Even though he sustained a knee injury last November that prevented him from playing in more than 20 games for the Grizzlies, Gasol's numbers were respectable. But it's what he was able to do during Memphis' first-round playoff series against the Thunder that really impressed us. He averaged 17.3 points, 7.7 rebounds, 4.4 assists, and 1.7 steals per game and helped the Grizzlies come thisclose to knocking off Kevin Durant & Co. And while they didn't end up doing it, there's no reason to think that Gasol and the Grizzlies can't make yet another trip to the playoffs this season, especially if he's able to stay healthy and continue to do what he was doing at the end of last year.
19. Joakim Noah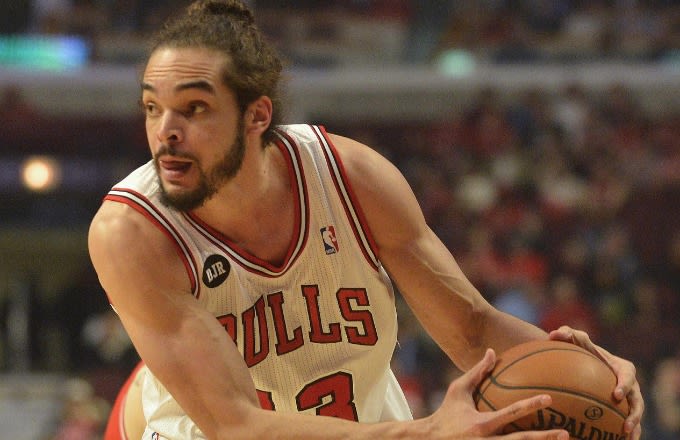 Image via USA TODAY Sports/Matt Marton
Team: Chicago Bulls
2013-14 Stats: 12.6 PPG, 11.3 RPG, 5.4 APG, 1.5 BPG
Noah is the heart and soul of the Bulls roster. Derrick Rose might be the electric point guard who makes all of the SportsCenter highlights, and Taj Gibson might be the guy who gets credit for throwing down big dunks and putting opposing players on posters. But Noah is a guy who can and will do anything for his team. And if the Bulls are going to make a deep playoff run this season, as many people are predicting, they're going to need Noah to put up the same kind of numbers that he did last season.
18. Kyrie Irving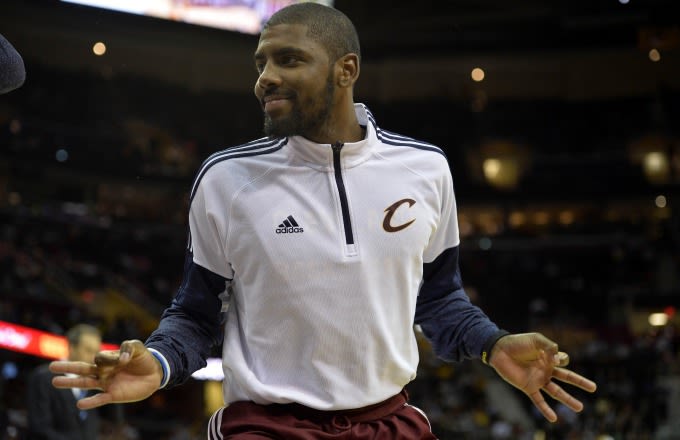 Image via USA TODAY Sports/David Richard
Team: Cleveland Cavaliers
2013-14 Stats: 20.8 PPG, 3.6 RPG, 6.1 APG, 1.5 SPG
On a personal level, Irving's first three seasons in Cleveland were solid. He averaged more than 20 points per game, showed glimpses of greatness by hitting several big shots—including one game-winner during his rookie season against the Celtics—and became a YouTube/Vine sensation. But the wins were few and far between for his team.
That will not be a problem this season, now that Cleveland has surrounded Irving with Kevin Love and LeBron James. And while it might cause some of his stats to dip (he shouldn't expect to average 20 per night anymore), Irving is going to be put in charge of trying to run new Cavs coach David Blatt's offense and asked to help the team gel as a unit. If he's successful, he'll likely end up being much higher on this list by the time the playoffs roll around.
17. DeMarcus Cousins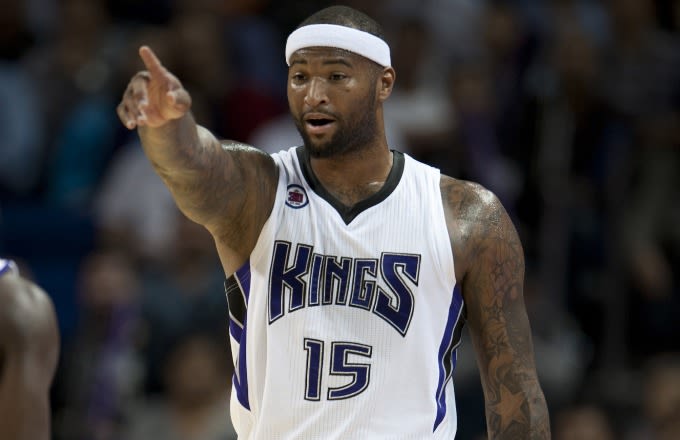 Image via USA TODAY Sports/Danny La
Team: Sacramento Kings
2013-14 Stats: 22.7 PPG, 11.7 RPG, 2.9 APG, 1.3 BPG
The average fan who doesn't get the chance to catch many Kings games probably only knows one thing about Cousins: The guy picks up a ton of technical fouls (he was tied for the lead league with 16 last season). But he's determined not to pick up as many this year—he's made it his goal to "only" pick up five Ts—and that's trouble for opposing teams because when Cousins is on the court and playing well, he's easily one of the best centers in the league.
Cousins can score. He defends well. He brings a toughness that very few other NBA players have. And as he proved this summer when he helped Team USA win a gold medal at the 2014 FIBA World Cup, he does know how to win, which is something that the Kings want to start to do. If Cousins continues to make progress on the court, those wins should start coming more regularly soon.
16. John Wall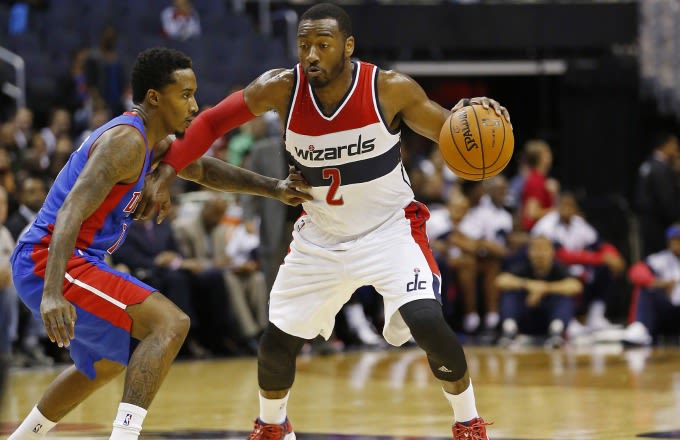 Image via USA TODAY Sports/Geoff Burke
Team: Washington Wizards
2013-14 Stats: 19.3 PPG, 4.1 RPG, 8.8 APG, 1.8 SPG
After several disappointing seasons with the Wizards, Wall, Bradley Beal, and Nene finally made some noise in the Eastern Conference last season. Part of that was because the Wiz had the right blend of talent on their team for the first time since Wall joined Washington's roster. But the fact that Wall averaged careers highs in points and assists and the fact that he played in all 82 games last year also played a big part in it.
After receiving a max contract from Washington, Wall proved that he could play with any point guard in the NBA and also won the NBA Slam Dunk Contest to boot. Not bad for a guy who had everyone wondering whether or not he was worth his max deal last year.
15. Damian Lillard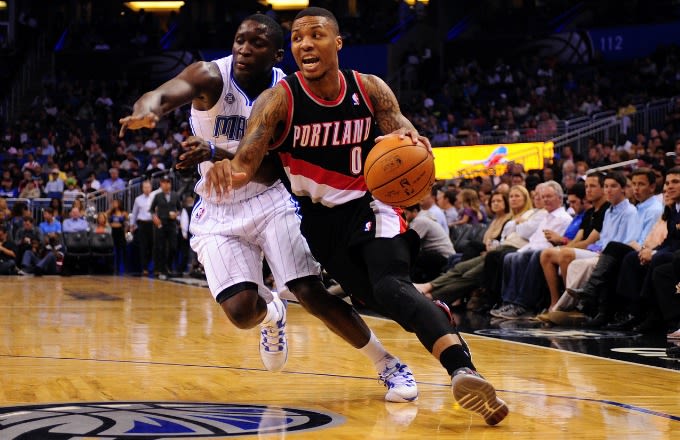 Image via USA TODAY Sports/David Manning
Team: Portland Trail Blazers
2013-14 Stats: 20.7 PPG, 3.5 RPG, 5.6 APG, 0.8 SPG
It's kind of hard to believe that most people had no idea who Lillard even was as recently as two years ago. The former Weber State point guard burst onto the scene during his rookie campaign in 2012-13 and, last year, he continued his growth as a player and helped guide the Blazers to the second round of the NBA Playoffs, capping off their first-round series against the Rockets with a game-winning three-pointer at the buzzer. And this summer, he got all the motivation that he needed to work hard to get even better when Team USA cut him before the start of the 2014 FIBA World Cup.
"It was them telling me that I wasn't good enough," he said last month. "I've always been one to throw wood on the fire any time I got the opportunity. Once I was turned away from making that team, I basically took it as, 'You're not good enough.' That was just another reason for me to go back and keep trying to improve as a player."
Translation: This year should be even better for Lillard than last year was. And that should scare some opposing players.
14. Dwight Howard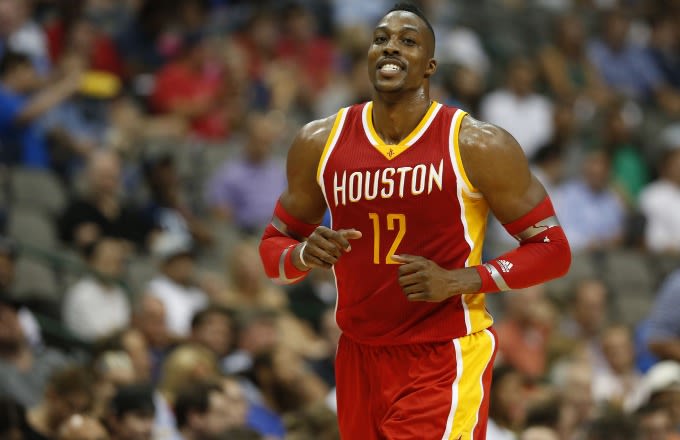 Image via USA TODAY Sports/Matthew Emmons
Team: Houston Rockets
2013-14 Stats: 18.3 PPG, 12.2 RPG, 1.8 APG, 1.8 BPG
More of the same. Those four words can pretty much sum up Howard's 2013-14 NBA season. Did he put up impressive numbers by averaging more than 18 points and 12 rebounds? Of course. But they are pretty much the same numbers that Howard has averaged for his entire career and, while they look good on paper, they didn't result in the kind of team success in the NBA Playoffs that we'd expect from a squad with Howard on it.
That being said, Hakeem Olajuwon went on the record recently and said that Howard should be an MVP candidate this season. He's spent a lot of time working with him and feels that he's ready to make a big leap. Will it happen? That's TBD. But it'd sure be nice to see Howard do even more than he's done in past years.
13. Tony Parker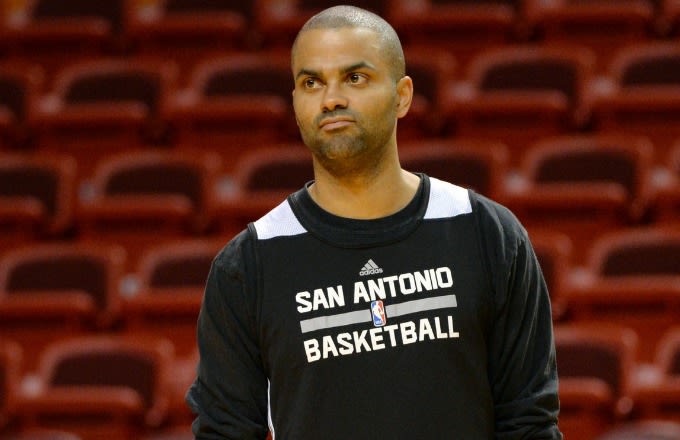 Image via USA TODAY Sports/Steve Mitchell
Team: San Antonio Spurs
2013-14 Stats: 16.7 PPG, 2.3 RPG, 5.7 APG, 0.5 SPG
Because he flourishes in the Spurs system and because he's surrounded by so many talented players, TP doesn't always get the respect that he deserves. In fact, if we asked you to sit down and make a list of the best point guards in the NBA, we're guessing that you'd write down names like Chris Paul, Russell Westbrook, Derrick Rose, Kyrie Irving, and more before you even thought about Parker's name.
But Parker continues to do what he's always done in San Antonio, which is run Gregg Popovich's offense, come up big in clutch situations, and help the Spurs make championship runs. He's only 32, too, which means that he's still got a life left in his legs. And as long as Popovich continues to give him as much rest as possible during the regular season—he averaged less than 30 minutes per game last season—he's going to be ready to roll when the playoffs come around.
12. Derrick Rose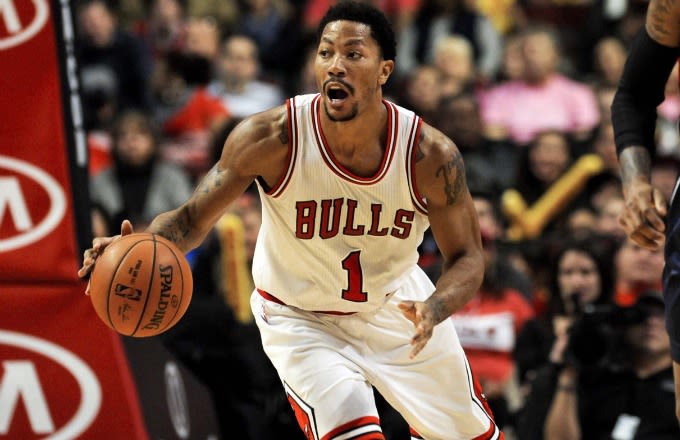 Image via USA TODAY Sports/Matt Marton
Team: Chicago Bulls
2013-14 Stats: 15.9 PPG, 3.2 RPG, 4.3 APG, 0.5 SPG (only played 10 games due to injury)
Can Derrick Rose stay healthy this season? No, really, can he? If he can, then it looks like he will once again be a legitimate MVP candidate. He's certainly looked every bit as quick and effective in the preseason as he was prior to the string of knee injuries that he suffered in recent years. But his health will always be an issue and, until he proves that he's going to be able to make it through an entire season without getting hurt, there will always be some skepticism surrounding him. Look for his skeptics to fuel him, though, and if he does stay healthy, we predict that Rose is going to work his way up this list as the season goes on.
11. Kevin Love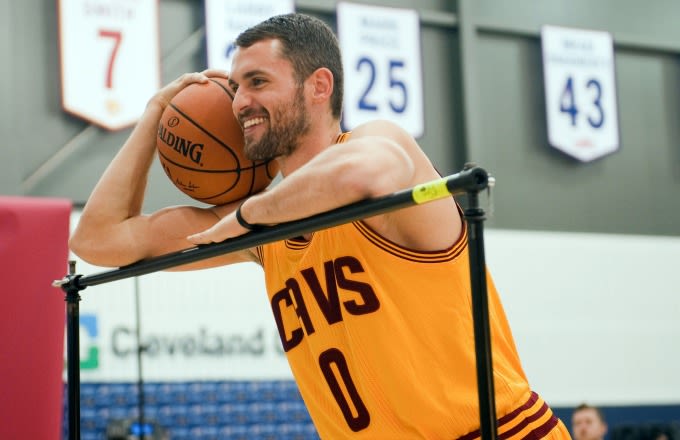 Image via USA TODAY Sports/Ken Blaze
Team: Cleveland Cavaliers
2013-14 Stats: 26.1 PPG, 12.5 RPG, 4.4 APG, 0.8 SPG
Love's numbers suggest that he should be much higher on this list. You won't find many other guys, er, any other guys who average more than 26 points and 12 rebounds here. But the former Timberwolves star has accepted a new challenge this season by teaming up with Kyrie Irving and LeBron James in Cleveland. And that's exactly what it's going to be—a challenge.
Love isn't going to be "the man" anymore, which means he's going to have to find ways to score that don't disrupt the flow of the Cavs' offense. He's also going to have to learn to play with fellow superstars and, maybe most importantly of all, he's going to have to learn how to win. He didn't do it often in Minnesota, but he's going to have to do it in Cleveland if he wants to continue to be mentioned amongst the NBA's greats.
10. LaMarcus Aldridge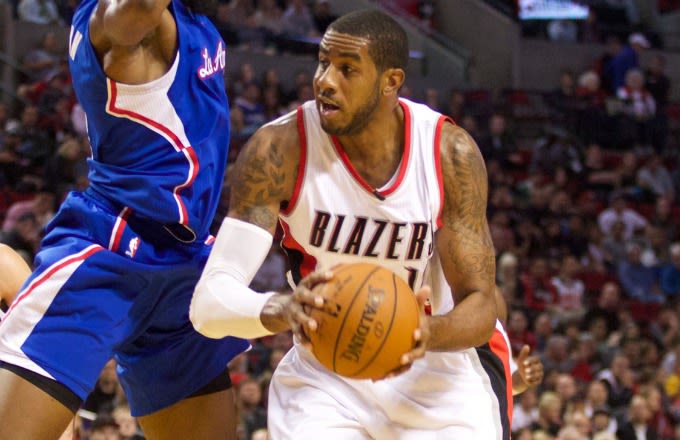 Image via USA TODAY Sports/Jaime Valdez
Team: Portland Trail Blazers
2013-14 Stats: 23.2 PPG, 11.1 RPG, 2.6 APG, 1.0 BPG
Do you remember how good Aldridge looked in Game 1 of the Blazers' first-round playoff series against the Rockets last April? He scored 46 points and grabbed 18 rebounds while absolutely dominating Dwight Howard from various points on the floor. His mid-range jumper was on. He was money down on the block. And he ran the pick-and-roll with Damian Lillard to perfection.
It was a coming of age moment, and it's how we expect Aldridge to play all the time this season, especially since it's a contract year for him. He might not be able to drop 30 or 40-plus points every night. But with Lillard becoming more and more of a threat for Portland, Aldridge should be able to consistently score the ball whenever he wants to do it.
9. James Harden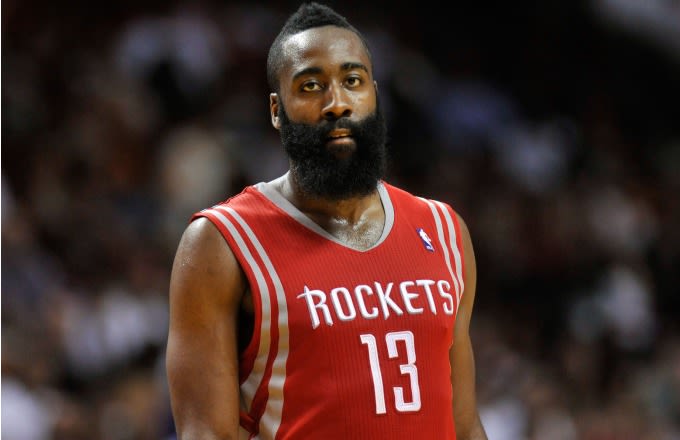 Image via USA TODAY Sports/Steve Mitchell
Team: Houston Rockets
2013-14 Stats: 25.4 PPG, 4.7 RPG, 6.1 APG, 1.6 SPG
Sometime over the course of the year, someone realized, "Hey, James Harden doesn't play very good defense," and made a YouTube video to illustrate it. Truth be told, Harden has never played particularly good defense—and worse, he's never really shown an interest in playing good defense—but once that YouTube video and subsequent YouTube videos started to surface, people started to ask Harden about his defense. And they've asked him so much that, at some point, he's going to have to take a good hard look in the mirror and figure out how he wants to address his defensive shortcomings.
In the meantime, the good thing is that Harden doesn't struggle to put up points and he's going to continue to knock down big threes, drive the lane for buckets, and find ways to score. If he wants the Rockets to be a true contender, though, he's going to need to fix his defensive issues. It's the only thing preventing him from landing closer to the top of this list.
8. Russell Westbrook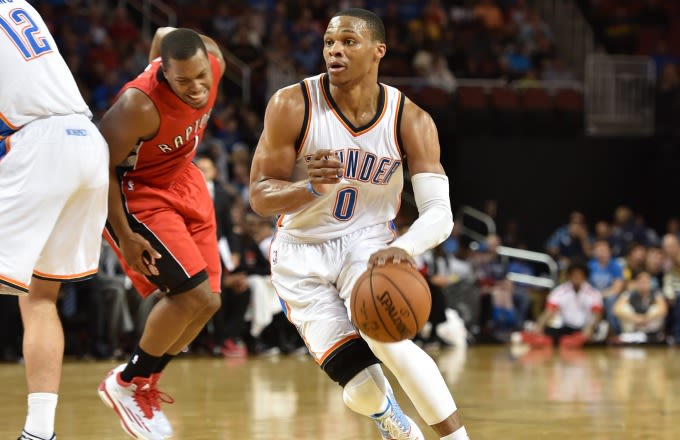 Image via USA TODAY Sports/Peter Aiken
Team: Oklahoma City Thunder
2013-14 Stats: 21.8 PPG, 5.7 RPG, 6.9 APG, 1.9 SPG
As long as Kevin Durant is on the Thunder, Westbrook can not going to win an MVP award. Or can he?
This season, Westbrook is going to have to play at least a month—and probably longer—without Durant, who suffered a foot injury in the preseason. And that'll give him the chance to prove how important he is to the Thunder. Westbrook insists he's not going to approach the game any differently than he already does. But expect to see his scoring average go up and to see him try to become even more of a leader than he already is. He might not come out and admit it, but this is a huge opportunity for him and we wouldn't be surprised at all if he made the most of it and threw his name into the MVP discussion at the start of the season.
7. Stephen Curry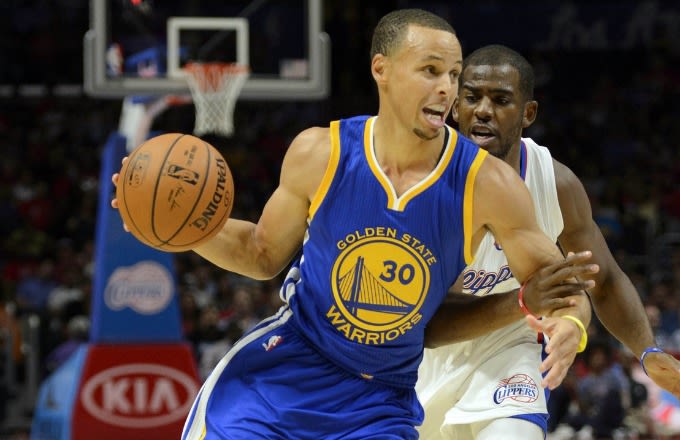 Image via USA TODAY Sports/Kelvin Kuo
Team: Golden State Warriors
2013-14 Stats: 24.0 PPG, 4.3 RPG, 8.5 APG, 1.6 SPG
During the offseason, Curry said he thinks his offensive game is better than LeBron James' offensive game. And while we wouldn't quite go that far—if he wanted to, LeBron could definitely average more than 40 points per game—Curry does have an offensive game that's better than just about anyone else in the league.
Curry can shoot, he can create his own shots, he can make you pay for fouling him by knocking down shots at the free throw line, and when he's not scoring, he can dish the ball with the best of them. His 8.5 assists per game last season were a career best and gave him the sixth-highest assist average in the league. Bottom line: Curry does everything his team needs on the offensive end of the ball. And now that he's reportedly made it his mission to get better on the defensive side of the ball, too, he's only going to become that much better of a player moving forward.
6. Anthony Davis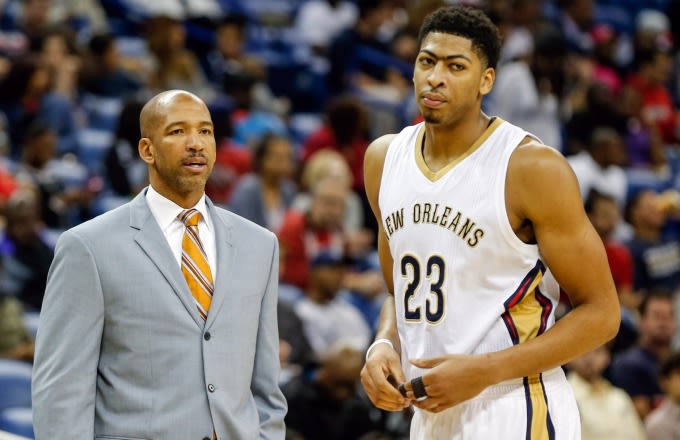 Image via USA TODAY Sports/Derick E. Hingle
Team: New Orleans Pelicans
2013-14 Stats: 20.8 PPG, 10.0 RPG, 1.6 APG, 2.8 BPG
Recently, USA TODAY Sports conducted a poll with 27 NBA general managers and asked them which player they would pick to start an NBA franchise if they could choose from anyone in the league right now. Sixteen of them picked LeBron James, seven chose Kevin Durant, one settled on Tim Duncan, and three—yes, three—said that they'd want Davis. And while we were initially surprised by that, it makes sense.
Davis is a 6-foot-11 freak of nature who can run the floor, shoot the ball, cover anyone that you ask him to, and patrol the paint as well as any other center in the league. And did we mention that he's only 21, which means that the best is yet to come? We aren't ready to slide him into the top-five—yet—but if he continues to trend in the direction that he's been trending in recently, Davis is going to make three GMs look like the smartest men in the NBA.
5. Chris Paul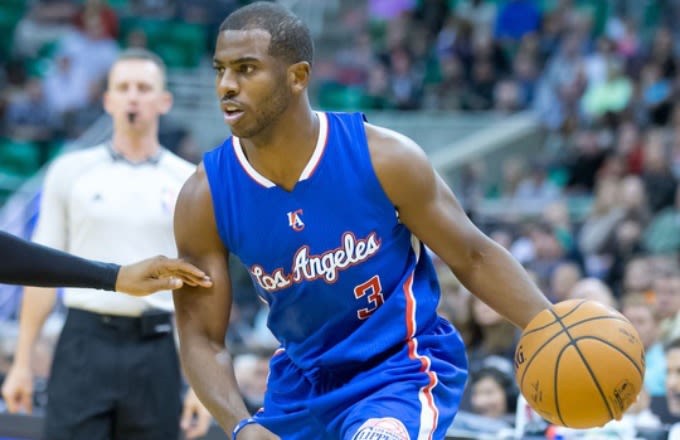 Image via USA TODAY Sports/Russell Isabella
Team: Los Angeles Clippers
2013-14 Stats: 19.1 PPG, 4.3 RPG, 10.7 APG, 2.5 SPG
It's fun to argue about who the best point in the NBA is. But really, is it even a debate? There's CP3, and then there's every one else. There are other guys who do things better than him. For instance, Russell Westbrook and John Wall can dunk the ball better than him, while Stephen Curry is obviously a much better shooter than the Clippers point guard.
But no one makes their teammates better quite like CP3. No one brings the type of leadership that he does, either. And no one plays the brand of tenacious defense that he does when he really buckles down and commits himself to doing it (remember what he did to Kevin Durant during the NBA Playoffs last year?). It's why he continues to be the model of what an NBA point guard should be year after year.
4. Carmelo Anthony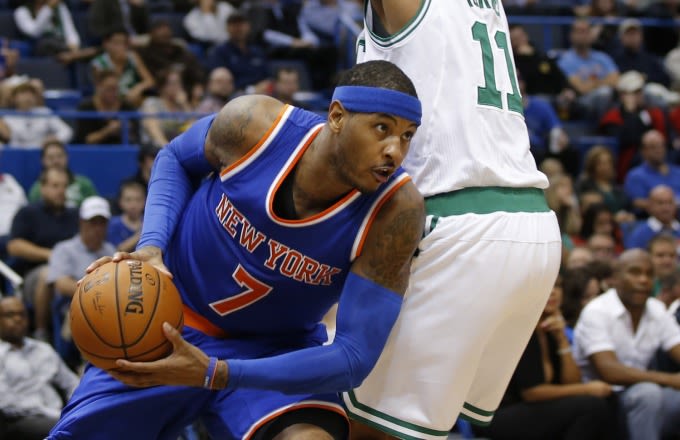 Image via USA TODAY Sports/David Butler II
Team: New York Knicks
2013-14 Stats: 27.4 PPG, 8.1 RPG, 3.1 APG, 1.2 SPG
Last month, Carmelo revealed that he believes he's the "most underrated superstar" in the NBA. We don't necessarily agree with that, but we do think he's underrated in one regard: People aren't really wowed by what he's able to do anymore.
Does Carmelo put up 25 points per game? Yes. Does he consistently hit shots that no one else can? Yes. Is he capable of dropping 50 on any given night? Yes. But it's almost become so routine that people aren't impressed by it when he does it now.
So what does he need to do to change that? Win some playoff games. And now that Carmelo has Phil Jackson in his corner, that's exactly what he should be able to do in the coming years. With a little luck, it'll start this year. But even if it doesn't, you should once again expect Carmelo to be one of the biggest offensive threats in the league, even if it doesn't necessarily excite you as much as it should.
3. Blake Griffin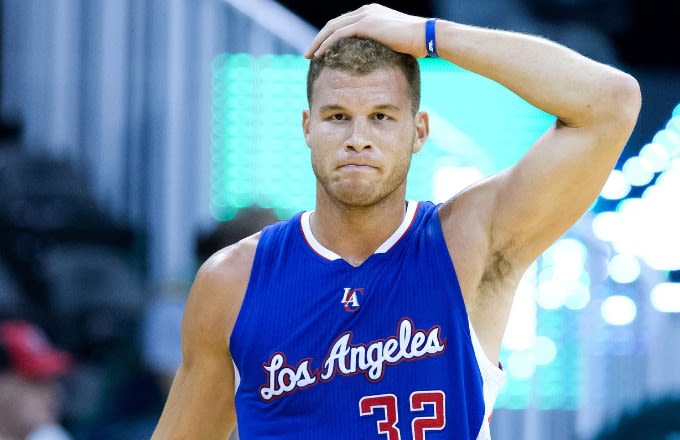 Image via USA TODAY Sports/Russell Isabella
Team: Los Angeles Clippers
2013-14 Stats: 24.1 PPG, 9.5 RPG, 3.9 APG, 1.2 SPG
We're still sort of amazed by what BG was able to do last season. After spending his first few years in the NBA dunking just about every ball that came his way, he spent the summer of 2013 working on his post moves and his mid-range jumper. And all that work resulted in a significant increase in Griffin's scoring average. He still dunked—a lot—last season, but he also found other ways to score the basketball, which allowed his average to jump from 18.0 PPG during the 2012-13 season to 24.1 PPG last year. Last February, he even had a stretch of games that saw him score more than 35 points on five different occasions.
Early indications from the preseason are that BG might try incorporating a three-point shot into his arsenal. But even without it, he's transformed himself into a much more complete player in a very short amount of time. And as long as he continues to make progress, the Clippers are going to be a real threat to make a run to the NBA Finals every year.
2. Kevin Durant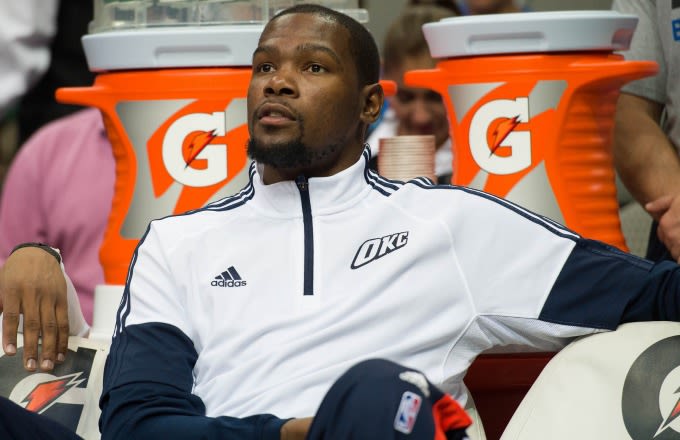 Image via USA TODAY Sports/Jerome Miron
Team: Oklahoma City Thunder
2013-14 Stats: 32.0 PPG, 7.4 RPG, 5.5 APG, 1.3 SPG
Everybody knows what KD can do. He can score in bunches. He can take over games whenever he wants. He can find open teammates. He can knock down free throws. And he can electrify the crowd in Oklahoma City. But this season is going to be all about what KD can't do. Specifically, he can't play for at least eight to 12 weeks because of a small broken bone in his foot, which is going to limit him in a lot of ways and make it difficult for the Thunder to contend in the Western Conference, at least for the first month or two of the season.
After that, it's going to be all about how quickly KD can catch up and whether or not he can stay healthy once his foot heals. If he can, then he should have no trouble returning to the MVP form he achieved last year, because we know what he can do when he's on the court. But right now, it's all about doing whatever he can to get back there.
1. LeBron James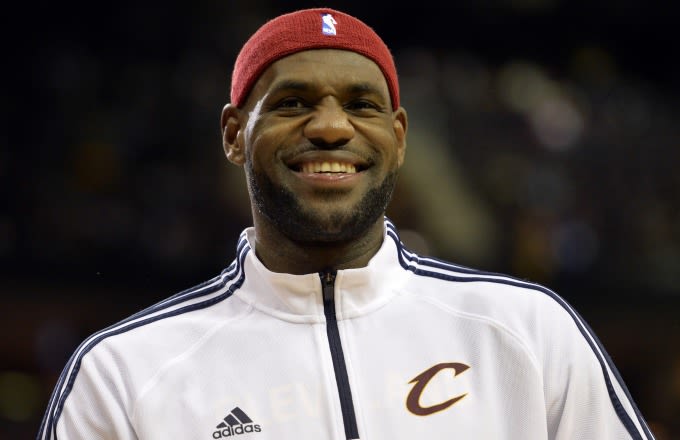 Image via USA TODAY Sports/David Richard
Team: Cleveland Cavaliers
2013-14 Stats: 27.1 PPG, 6.9 RPG, 6.3 APG, 1.6 SPG
The truth of the matter is that, if KD was healthy right now, he would be a strong contender for the No. 1 slot on this list. After all, he is the reigning NBA MVP and, at this point, the Thunder would probably be a safer bet to make the 2015 NBA Finals than the Cavaliers, which would give KD a slight edge. But since he isn't healthy and it's unclear when he'll be back in the lineup, LeBron is, hands down, the best player in the NBA right now.
Even though we expect some growing pains for him, Kyrie Irving, and Kevin Love this season, we also expect LeBron to continue to put up somewhere in the range of 27 points, seven rebounds, and seven assists every night. It's what we've come to know and love about LeBron and what makes him the most dominant all-around player in the NBA. The King's throne is safe…for now.
Hope you find this helpful.If you "like" the page, please share with others